Animated videos for technical marketing
Photo-realistic 3D product animations reveal the functional operation of your product. Attention-grabbing visuals show off the features in your design. Animated product videos engage your audience and can simplify complex processes or systems. Animation is an important promotional tool for new product launches, trade show displays, and content marketing.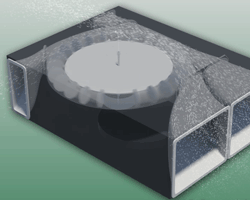 "Must-have" visuals
Most product animation projects have certain sequences that are particularly helpful and illustrative. These sequences can be included in websites and presentations as short, looping video clips.
A complete product narrative
As a product animation company, we deliver more than just polished CG footage of product orbits or exploded assemblies. Our focus is on telling a comprehensive product story though animation. A story that merges many selling points into one short video can pay big dividends. Promote your product's features and their related benefits in an engaging, informative, and largely language-independent way.
Product animation fundamentals
It is important to find unique visual storytelling opportunities that benefit your product, but not every shot in your video can or should be unique. Many shots in an effective product demo video are based on "the fundamentals". These are common visual storytelling techniques, and we use these standards to full effect. Some shots that we consider product animation staples:
Exploding assemblies showing key internal components
Camera orbits around an object with flattering lighting, highlights, and reflections
Cutaways, section views, or dissolved components to show internal features
Animated charts or graphs showing process information or performance values
Many of these shots will be part of your product video, but they need to do more than just look great. They also have to tell your story, and that is the first thing we work on in any project. We add motion graphics to create information overlays, animated titles, and performance charts. Special effects, such as glows, keep viewers looking at what is important, improving retention.
Product rendering and visualization
We create beautiful 3D renderings that can outshine actual photographs of the physical product. You have full control of your product's final look. Do you show perfectly polished surfaces, or add more realistic grain, scratches and finishes? Realistic airflow, fluid, heat transfer, and smoke effects can bring your product to life. Does your design have moving parts? Show off that motion with features such as motion blur and depth of field.
Jump start with CAD data
Are you leveraging the 3D CAD data being created in your engineering department? Those CAD files are an ideal starting point for your 3D animated product video! Neutral files such as STEP, ParaSolid, and IGES are ideal when available. We can also work with most native file formats, including SolidWorks, Siemens NX, PTC Creo / Pro/ENGINEER, Solid Edge, and Autodesk AutoCAD / Inventor.
We work with your engineering team to leverage that CAD data to its fullest extent. While some complex parts need special animation features, the majority of components can be based on the original CAD topologies.
Products from any industry
Animated product videos can drive product awareness, train customers, and qualify leads. From semiconductors to food processing, healthcare to construction, we have showcased some amazing products! Fortune 500 companies use our animations internally to present designs to executives or investors. Individual inventors use our product animations for patent processes or crowdfunding campaigns.
Illustration opportunities
Extend animation projects to take advantage of rendered still images as well. The setup work for animated videos is similar to that of product image renderings. Does your animation project budget include high-resolution images for product media libraries and brochures? Contact us to find out, or look at an in-depth explanation of our technical illustration services to learn more.