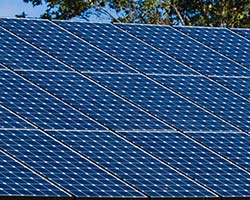 Greener than your average render farm
Did you know that our render farm, the set of computers that calcuate animation frames, is powered by renewable energy? With rare exception, our animation projects are rendered on computers using renewable energy from a local solar panel installation. This includes, by coincidence, an animation about how solar panels are installed!
Animated video expertise
Since 1998, Framework Media has been helping our clients connect with their audience to increase sales, build product and brand awareness, and spread their message. Our strategy for success is to start projects small, keep things simple, and deliver a solution that meets or exceeds requirements, on time and on budget. We leverage the latest tools and technology to continuously improve the quality and reduce the cost of our visuals, and we are always evaluating new production workflows.
Multidisciplinary talent
Framework Media's expertise extends beyond animation production to include design, engineering, programming, and marketing disciplines. Our technical skills allow us to work effectively with engineering departments to get product details and CAD assets, sometimes even acting as a liaison between marketing and engineering. When creating visuals for use in the courtroom, we work fluently with a wide range of experts (law enforcement, medical, engineers, etc.) and validate the use of animation at trial.
Ready to learn
As experienced as we are, we know what we don't know. To make your project a success, an understanding of your needs is our top priority. For a product animation, taking the time to learn about your products and services, your brand and positioning, and the competitors that shape your industry can significantly enhance the final animation. For courtroom animations, an up-front review of the case and evidence is vital, including an evaluation of how the animation will support your overall narrative.
No job too small
Framework Media's clients range from Fortune 500 companies to individual inventors and entrepreneurs, and our process is the same for every customer. Projects typically start as a written proposal with clearly defined schedules and not-to-exceed project costs. Proposals are typically broken down in to base and optional components to allow you to choose those that provide the most value while allowing you to stay within your budget.
Your work stays with us
We never outsource animation work to a third party. That means confidential information, including your 3D CAD data, stays confidential. Non-disclosure agreements are put in place during the early quotation process and are always respected. Your project stays under wraps until you are ready to share it with the world, so you can rest easier at night during the development phase!
You own the final product
With any animation or illustration project, you own all of the content that we create for you. It's as simple as that. All of the assets that we create for your animated videos come with unrestricted use, allowing you to publish or deploy online as you see fit, without worrying about licensing or royalties.
Our work
Now that you know a little bit about us, make sure you see some of our work:
Partner with us
Do you have a technology or service that you think we or our customers would find valuable? We are always interested in hearing from companies that can offer our clients additional advantages and value.
NOTE: This invitation does not include outsourcing companies, regardless of where they are geographically based.